Skip to Content
Trusted Prostate Cancer Diagnosis in Rancho Mirage and Coachella Valley
At Desert Prostate Specialists, we take special care to guide you through the prostate cancer diagnosis and treatment process. At our Rancho Mirage, CA office, you'll be treated with care and compassion every step of the way. Dr. Schreiber brings nearly 40 years of radiation oncology experience and is passionate about using state-of-the-art technology to diagnose and treat his patients.
At this point, you've most likely received an ultrasound and/or blood work from your primary care physician or urologist that detected some abnormalities. Your next step would be to receive an accurate prostate cancer prognosis that will place you in one of the following prostate cancer risk categories: very low, low, intermediate, or high. Desert Prostate Specialists will guide you through a biopsy process and help determine a level of treatment, if necessary.
Prostate cancer often develops in gland cells, which comprise the prostate fluid that's added to semen. Adenocarcinoma is the most common type of prostate cancer and accounts for 95% of all diagnoses. Most prostate cancers progress slowly, but some can rapidly grow and spread, so it's vitally important to receive an accurate, reliable diagnosis.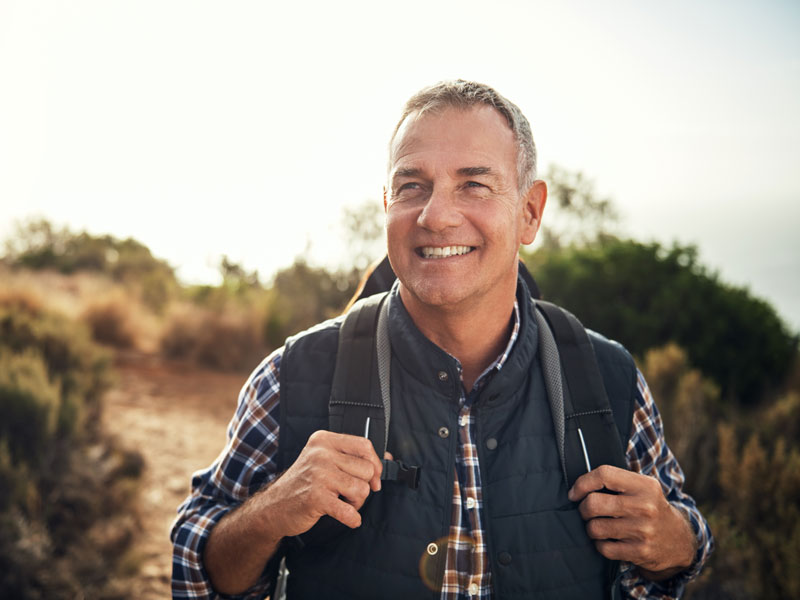 Innovative, Painless, and Accurate Biopsies
Desert Prostate Specialists is the one of the only cancer treatment center in the country to offer three-dimensional biopsy with MRI/ultrasound fusion through a trans-perineal approach. Dr. Schreiber developed this new painless, safe, and accurate biopsy technique whereby we map the prostate precisely using MRI/ultrasound fusion using interstitial perineal template technology. We never biopsy through the rectum, only through the skin.
This prostate cancer diagnostic tool allows us to observe any abnormalities within your prostate with regard to cancer, using three-dimensional techniques that are far superior to the current two-dimensional blind transrectal biopsies. As a result, these biopsies cover the entire prostate gland more thoroughly than the current techniques and target any abnormal areas visualized.
Dr. Schreiber's three-dimensional biopsies with MRI fusion have a 30% higher cancer detection rate than traditional transrectal biopsy methods. Most importantly, the process is safer, with a less than 1% risk of complications.
From Prostate Cancer Prognosis to Treatment
If you have been diagnosed with prostate cancer, there are various treatment options from which you can choose. Prior to beginning treatment, Desert Prostate Specialists will first determine the stage or degree of your cancer's progression. After the degree is pinpointed, we will use specific protocols for low-risk, intermediate, and high-risk patients, as well as for those who have reoccurring prostate cancer.
We will carefully review your biopsy results and work with you to determine the best plan of treatment for your needs. Desert Prostate Specialists strives to develop individual treatment plans for each of our clients; however, we most commonly recommend highly effective seed implants.
Each year, hundreds of patients are treated with seed implants, a common prostate cancer treatment also known as brachytherapy, in addition to being targeted with MRI/ultrasound fusion technology. Consequently, Desert Prostate Specialists has one of the most active and advanced seed implant programs in the country. Seed implants:
Have a high cure rate

Are the least expensive prostate cancer treatment option

Are the only form of treatment for prostate cancer that can conform to a certain area within the prostate gland, thus sparing complication risks

Offer quick recovery after treatment
Compassionate Cancer Care in Rancho Mirage, CA